InfaMinder Corp Releases New Car Device that Saves Lives of Children and Pets
August 16 2019 – Infaminder Staff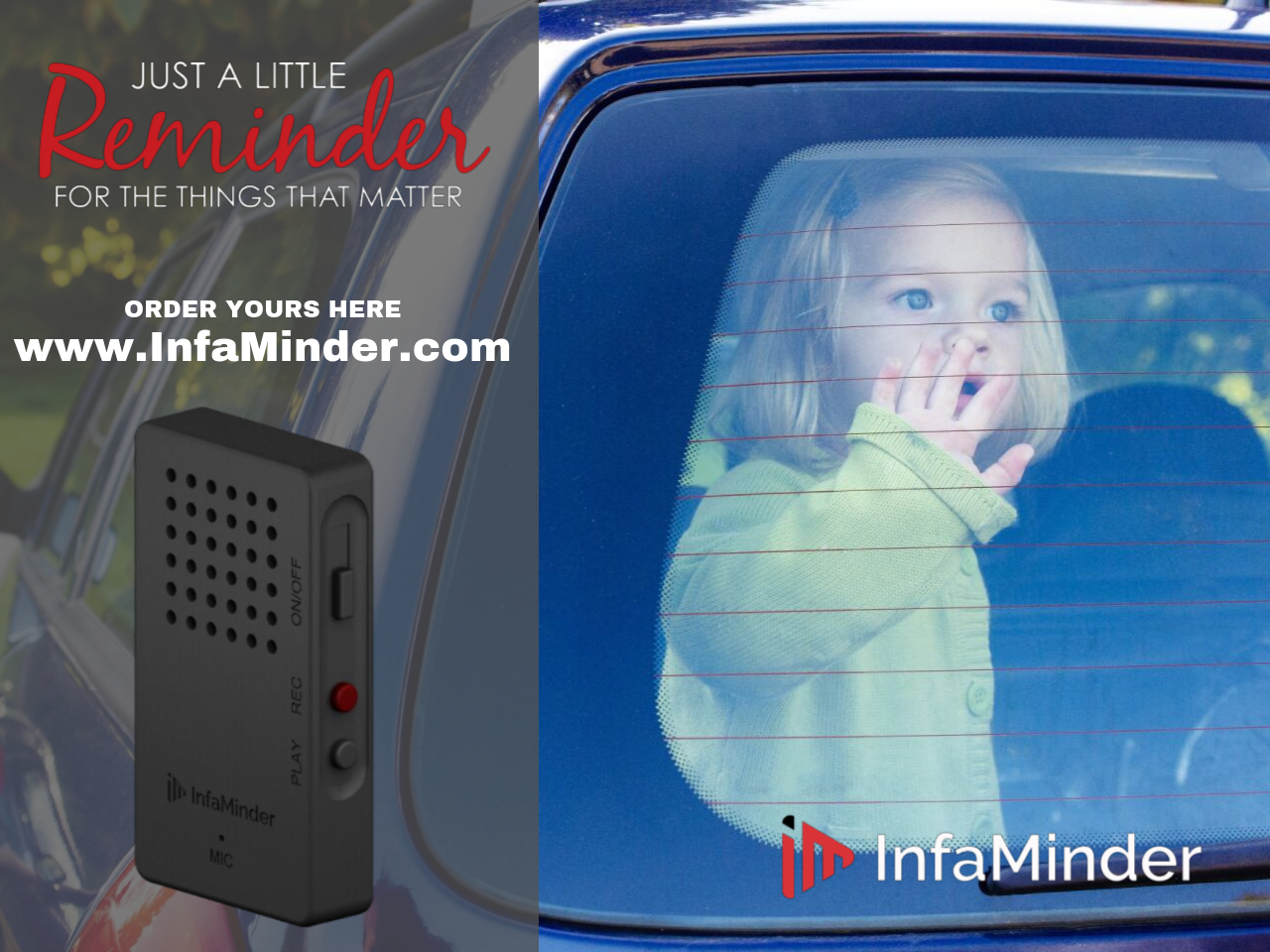 "Just A Little Reminder for The Things That Matter"
New York, New York – InfaMinder Corp is excited to announce the launch of InfaMinder, a patented simple electronic device that attaches to the driver's seatbelt and allows the driver to record a personalized message reminder that will be triggered through a special sensor. InfaMinder will play the recording when they arrive at their next location, even before the parent or guardian steps a foot outside. The device is wireless, and does not require Wi-Fi or Bluetooth, it works with a battery that will last one full year with no replacement or charging needed.  Its most attractive feature is its MSRP, a very affordable price point of only $29.99, a drop in the bucket for a potentially life-saving device. "We wanted to make a device that was affordable for parents around the world," says InfaMinder spokesperson.  The official launch date for InfaMinder is the Fall of 2019 but the product is now available at www.InfaMinder.com.
In 2018, the National Safety Council reported, that 52 children died in hot cars; that's an average of one child fatality a week. There are three main reasons these tragedies occur: An adult forgets a child in a vehicle, a child somehow gets into the vehicle and is unable to escape, or the worst-case scenario is when an adult purposely leaves a child in a car.
According to the American Academy of Pediatrics, heatstroke is the leading cause of non-car crash vehicular deaths in children under fifteen. Most parents would say that forgetting a child in the car is something they would never do.  In a Forbes article, Eric Stuyvesant, father of eight, had the same train of thought before the summer of 2015. One morning after a change in the family's routine, the Garland, Texas father accidentally left his three-year-old son, Michael, asleep in the backseat. "We all believe that it can't happen to us," Stuyvesant said later in an interview with Fox. His wife, Michelle Stuyvesant, added, "The absolute worst mistake to make is to think that it couldn't happen to you."
In a Washington Post article, an expert said: "…memory is fickle, and the neurological lapse that can cause a caregiver to forget about a child in the back seat of a vehicle is indiscriminate."
A child's body heats three to five times faster than an adult's body, and a child's major organs start shutting down when their body temperature reaches 104 degrees. A child can die when his or her temperature reaches 107 degrees.  A cracked window won't help, the car heats up in 10-minutes and a child can have a heat stroke even if it is in the '50s outside.
According to the Washington Post, just this past month in New York, Juan Rodriguez, a father of four, dropped his twin babies off at daycare, so he thought, and drove to his eight-hour shift at a hospital in the Bronx. He realized, only after work, that his overworked brain had imagined the drop-off. Imagine the devastation when his two youngest children had died in the back seat of his car from heatstroke, they were still buckled into their car seats.
Adults should always check the back seat to make sure every child is out of the car before walking away, but since that's sometimes easier said than done, it's worth investing in InfaMinder, an inexpensive device that alerts parents as they exit their vehicles. Here is exactly how InfaMinder would work: https://youtu.be/bxE3073kjvI 
InfaMinder also helps protect the Pets we love; we think that because they are animals that somehow, they are more resistant to heatstroke, but the reality is that they are equally as vulnerable as children. Don't forget or leave your pets in the car either.
InfaMinder Corp is in conversations with major retail chains in Europe and the US to get the product to as many parents as possible. InfaMinder Corp is also working to get the product on television and launching the product online to reach those parents that may not have the ability to buy it locally. The product can be ordered at www.InfaMinder.com.
InfaMinder Corp is a company founded by inventors with the passion to find practical solutions to big problems. The company was founded in New York, New York with its office in Hollywood, California. The inventors behind Infaminder have over 20 patents. InfaMinder's number one goal is to save lives. Thank you for your support in taking this product to market. We would love to hear from you at support@infaminder.com or, visit us at www.InfaMinder.com and order them for your loved ones today.
 InfaMinder Corp
7095 Hollywood Blvd #1536, Hollywood, CA 90028
support@infaminder.com